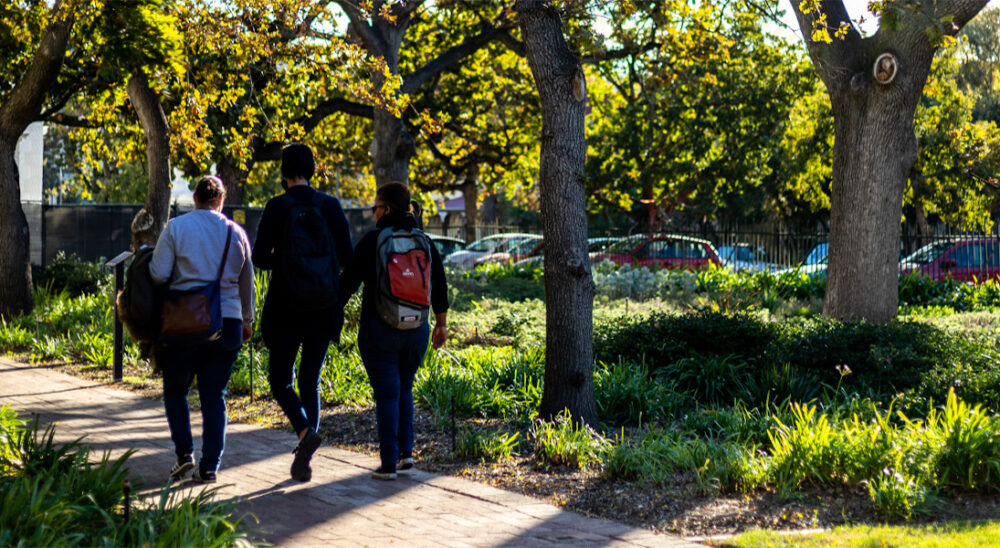 [Article by Irabe]
It is June 2021, and 15 months since our planet has tilted – and we as human beings together with her. Hopefully, most of us have landed in some way or other on our feet, despite so many tragedies as a result of the pandemic.
Still, after 15 months, and different levels of lockdown with no end in sight (yet), it's business as usual at SU's postgraduate Department of Journalism. Because, of course, for the media, the show must go on. Indeed, news media workers were declared essential workers right from the first lockdown. As Reporters Without Borders stated: "The best vaccination is information." We at the Department tilted our activities online on 16 March 2020, but were fortunate that we could open on 20 July last year – under all the necessary protocols – to offer hybrid teaching and learning activities to do exactly that, because an informed community is an empowered community.
And meanwhile our Department's website has also been refreshed for a totally new era. So: Welcome!
We like to think of our Department as the small journalism school with the BIG heart, also situated right in the heart of what must be one of the most beautiful university towns on our planet.
But don't be fooled by the charm of our gracious Edwardian building when stepping over our threshold from Crozier Street's entrance, or moving through the revolving doors of our super modern Mediafrika Annexe from the alleyway. Here we're down to serious business, whether it is preparing the next generation of journalists-cum-word entrepreneurs to keep our democracy alive, our own research projects, or our community interaction: It's all happening between the walls and under the roof of our so cherished department. Where, of course, we also have our resident ghost. As it should be. (Let past students who had to burn the midnight oil – which, well … sometimes happens – tell you of slamming doors and other such strange noises in the small hours of the night.)
Our Department's physical home consists of our beautiful Edwardian building at 26 Crozier Street, plus our sleek Mediafrika Annexe. In the former our academic and administrative staff are housed, as well as the Master's Hub for our Master's students, and, in the loft, a PhD Hub with offices for our PhD students. The loft also houses the office of the Centre for Science and Technology Mass Communication (Censcom), of which professor extraordinaire George Claassen is the founder, and of which Dr Nathan Geffen, editor of GroundUp, is the current director.
But if our beautiful Edwardian building is buzzing with activity, our Mediafrika Annexe sits a couple of notches higher on the Buzzing Index. There our full-time (as in 24/7) honours students are doing their thing, sharpening both their conceptual and practical skills in terms of serving our democracy, digital first, on multimedia platforms, and in whichever way they will find their niche when leaving 26 Crozier Street. It can either be in the employ of legacy and new media houses on all possible platforms (making their mark wherever they go), or in the www – the Wonderful World of Words – where they can use their multimedia skills, from searching for information to packaging it for different purposes.
Our Master's programme is a hybrid course, meaning that students can carry on with their jobs (or do it full-time if they can), but attend twice annual seminars on campus (Covid-19 permitting). The programme is completed online with interaction via various platforms between lecturers and the study year's cohort of students over a maximum of three years.
In our PhD offering candidates can be either full-time or part-time, depending on their circumstances, delving into matters within the fields of Journalism and Media Studies that will not gather dusts on shelves, but that will help solve problems that the media industry experiences in this Fourth Industrial Revolution. Of the latter, Klaus Schwab, founder and executive chair of the World Economic Forum, said: "We stand on the brink of a technological revolution that will fundamentally alter the way we live, work, and relate to one another. In its scale, scope, and complexity, the transformation will be unlike anything humankind has experienced before."[1]
He also said: "We do not yet know just how it will unfold, but one thing is clear: the response to it must be integrated and comprehensive, involving all stakeholders of the global polity, from the public and private sectors to academia and civil society." This Fourth Revolution (in which we also have to deal with a global pandemic, just to make things more interesting) is characterised "by a fusion of technologies that is blurring the lines between the physical, digital, and biological spheres".
This is the conundrum that we as journalism scholars, students and media workers strive to understand. And in doing so, thereby bringing the Weberian notion of "Verstehen", or understanding, to the publics that we serve in terms of journalism, or information, as "a common good". And, hopefully, to understand just a little of the so big and so wonderful world we live in.
Enjoy discovering what we offer on our website – from our programme offering, to our publications, to the alumni page, where you can discover our galaxy of stars over the years. If you have any queries, don't hesitate to contact us on journalism@sun.ac.za.
Lizette Rabe
Chair
[1] Klaus Schwab, "The Fourth Industrial Revolution: What it Means, How to Respond," World Economic Forum, 2016, https://www.weforum.org/agenda/2016/01/the-fourth-industrial-revolution-what-it-means-and-how-to-respond/ (accessed March 11, 2021).