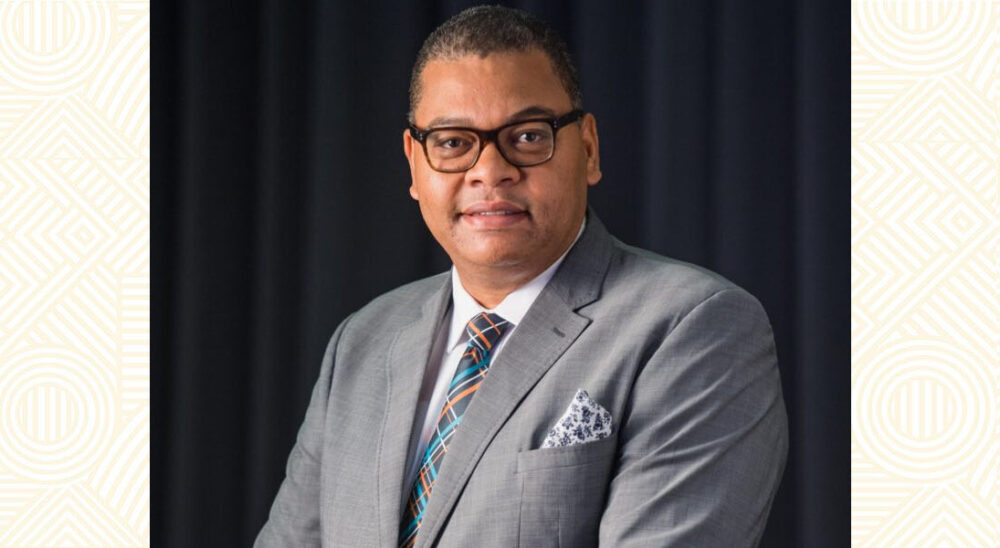 [Article by: Marenet]
The Department of Journalism is saddened about the passing of alumnus Ainsley Moos (class of 2001). At the time of his death, Ainsley was the chairperson of the Stellenbosch University Council and Executive: Corporate and Stakeholder Relations at African Rainbow Capital.
Former classmates from around the world reacted with shock and sadness at the "devastating" news of their "dear friend". Fellow journalism graduate Liesl Pretorius remembered Ainsley's focus and determination during their honours year. She said that when he became editor of Volksblad, she thought "it couldn't have happened to a nicer, more capable guy", adding that this was true for his many career successes since.
According to another classmate Maryke Visagie, Ainsley was "a true gentleman and a born leader whose ego never got in the way." She added that she will always remember him "as someone who took every opportunity to learn, who cared deeply about classmates and friends and who never lost his sense of humour, even when times were tough". Marenet Jordaan, also a classmate, recalled Ainsley's zest for life and love for his son.
Ronel Bester, another graduate from the journalism class of 2001, added: "Ainsley was fiercely interested in and forever curious about the world, and particularly passionate about our human interconnectedness. I will never forget his faith in people and his deep commitment to the potential we could harness as caring individuals and communities. He lovingly and proudly cherished his family and friends – may we honour him with our memories of his values, warmth, hope and humour."
The BPhil Journalism class of 2001. Ainsley is in the back row.
Ally Powell, who was the class representative during their honours year, said she remembers Ainsley as "incredibly hardworking and dedicated to every task he tackled". According to her, he was "kind, fair and always willing to help his fellow classmates" and that she will miss "his steadfastness, his warmth and his compassion".
"This is a huge loss to the Class of 2001, and to the University which he honoured and loved so much."
– Ally Powell (2001 class representative)
During his impressive career Ainsley was editor at Volksblad, Landbouweekblad and Sake24, and later head of group communication at Sanlam.
According to Gail Strauss, spokesperson on behalf of the family, Ainsley was supposed to undergo a small procedure to his mouth on Tuesday 31 January, but seemingly had a fateful reaction to the anaesthetic.
Ainsley celebrated his 45th birthday on 15 January. Arrangements for a memorial service have not yet been made.
We send our deepest condolences to his family and loved ones – especially Taryn and little Lex.
Lizette Rabe, now professor emeritus and former chair of the Journalism Department remembers:
Ainsley was in my very first honours class in 2001 – the (in)famous Class of Survivors. In a hand-picked group, where everyone was outstanding, he was the one who immediately fell into the "head boy" category – leadership personified. Indeed, he was also head boy of his school in Oudtshoorn. Not the loud type, he was the one who got things done in an effective, calculated, and charming way. This was the case throughout his career, with his qualifications also including a Harvard MBA. Ainsley ensured many firsts in Afrikaans journalism – breaking ground as editor of Landbouweekblad, also as editor of Volksblad. His talents took him to become communications manager of Sanlam, and finally executive head of Corporate and Stakeholder Relations at African Rainbow Capital. And of course: In 2021 he was elected chair of SU's Council, a huge responsibility on his young shoulders, and, suffice to say, with many more even greater heights beckoning. In addition, he was also involved in various initiatives, including a project to support stutterers; he himself struggled with it as a child. And one of his dreams as chair of the SU Council was to create a project for Afrikaans, for the origin of Afrikaans, and the recognition of Afrikaans' roots. Ainsley's so untimely passing is an indescribable loss for SU, for our business world, for our society, for Afrikaans – indeed for our country and all her people. He was a role model in everything he did, yet personified humility. He had a one of its kind talent for inclusive thinking and intellectual foresight. That such a person was taken from us far too early is an unspeakable tragedy. My heart goes out to his Taryn and their beautiful little Lex; also to his mother who has to live with the unimaginable loss of a child's death, also his sisters and brother and the Moos family. 26 Crozier Street mourns the loss of one of our brightest stars – but it is now up to us to ensure that that bright light will shine on.
Le Roux Schoeman shares some memories about his classmate and friend:
It was 2001, at the start of the academic year at Stellenbosch University's Journalism Department. We both hoped we could write and we both knew we couldn't type. So Ainsley and I hunkered down in front of the keyboards of Crozier Street and surrendered to Mev Amoraal's Monday morning computer literacy instructions, listening to the noise of fellow students breaking the sound barrier at 30, 40, 50(!) words per minute. We sat there, like cattle in the rain, and took it. Me and Moos. Now he is gone, and I sit here pawing at literature to offer any lines of consolation to those engulfed by grief. Something from De Gruchy's "Led into Mystery"? Some lines from Auden ("Stop all the clocks, cut off the telephone …")? Once again Koos du Plessis will have to do: "Hartseer is stom."
Ná hy joernalistiek studeer het, het Ainsley se loopbaan iets van sy tik-styl reflekteer. Stadige, versigtige begin en dan 'n verbete, opbouende ritme wat opwaarts streef en waarmee min kan byhou. Joernalis, hier, toe redakteur van daardie koerant, redakteur van hierdie tydskrif, voorsitter van hierdie Raad, kollega van Patrice Motsepe in Sandton, side-hustle-boer op stukkie grond buite Oudtshoorn, pa van seuntjie, bruidegom onderweg na kansel.
Once, out on a story project in rural Limpopo, with Ainsley behind the wheel, I remember us hitting a rogue speed hump with such force that the windscreen cracked. He knew where he was going and often I got the feeling that we were all running late.
And – around the much-watched clock – Ainsley was being the unique person that he was: a ready smile and a ready seriousness. He was a serious listener, serious talker, serious reader and serious leader.
Jacolette Kloppers, nog een van Ainsley se klasmaats onthou:
In 2001 het die meeste van ons klasmaats wat die spesiale ruimte van Crozierstraat 26 op Stellenbosch gedeel en lewenslange bande gesmee het, by/troetelname gehad. Ainsley was Mr Moose. Wat my sal bybly, is dat Ainsley vir ons Mr Moose gebly het ongeag die suksesse wat hy behaal en die posisies wat hy beklee het. Hy het getrou gebly aan sy kern, altyd vriendelik en nederig en hartlik, altyd erkentlik oor waar hy vandaan kom, altyd net Ainsley. Hy en sy familie het onlangs sy verjaarsdag gevier met 'n ete op 'n wynplaas. Toevallig was ek ook daar, aan't swem in die plaasdam saam met my tannie se worshondjie. Ek was sopnat en vol modder, maar Ainsley en Taryn het ingehaak bymekaar na my toe gestap en albei vir my in hulle Sondagbeste 'n drukkie gegee. Dit was 'n oomblik in tyd, vol lag en vriendskap, wat ek nooit sal vergeet nie. Baie liefde aan Ainsley en Taryn se familie, en almal naby aan hulle. Die verlies is enorm. JK
Ever the journalist, Ainsley could not resist to take a selfie at the first in-person post-Covid Senate meeting last year after the last in 2019, with Proff Thuli Madonsela and Lizette Rabe.