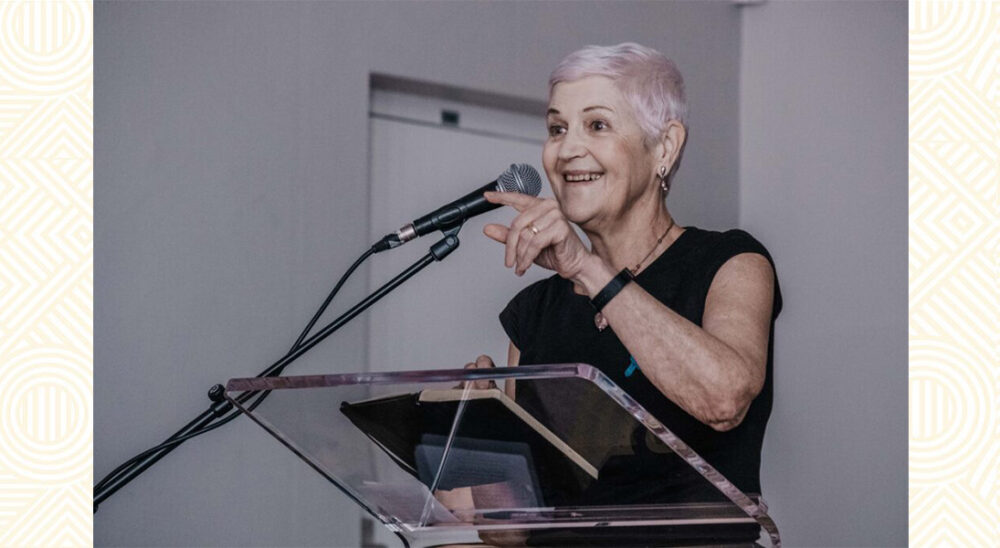 Prof Lizette Rabe, who retires at the end of 2022, was recently surprised with the launch of a festschrift in her honour.
Family, friends, and colleagues attended the event at the Adam Small theatre complex on Rabe's 65th birthday (14 February). Among the guests, were Rabe's mother Mrs Edna (Ester) Rabe, her brothers, and even her granddaughter Fleur. Former colleagues like renowned food writer, Peter Veldsman and Prof Herman Wasserman from the University of Cape Town's Centre for Film & Media Studies were also in attendance.
As part of the festivities, Willemien Brümmer, specialist writer at Netwerk24 who also studied and taught at the Department of Journalism, spoke about the lessons she has learnt from Prof Rabe: "From her I learn that the core of journalism is not to see your name in black and white. It is caring." Brümmer added that one needs to teach aspiring journalists "to have empathy with the frailness of others and to have mercy with those who have been trampled by life".
Prof Anthony Leysens, dean of the Faculty of Arts and Social Sciences, praised Rabe for her contribution as academic and educator. He also mentioned her activism on behalf of people struggling with psychiatric illnesses
The festschrift, titled Stories van Hoop en Onthou, was compiled by Dr Marenet Jordaan, a colleague of Rabe who was also a student in her very first honours class at 26 Crozier Street in 2001.
The book contains stories around Rabe's life, ranging from anecdotes about growing up with five brothers, what she was like as journalism student (in the first honours class), and the contributions she has made as founder of the Ithemba foundation that advocates for breaking down stigmas around mental illnesses.
The print-run of the book was small, but copies are available to view at the Department of Journalism, or in the main campus library of Stellenbosch University.