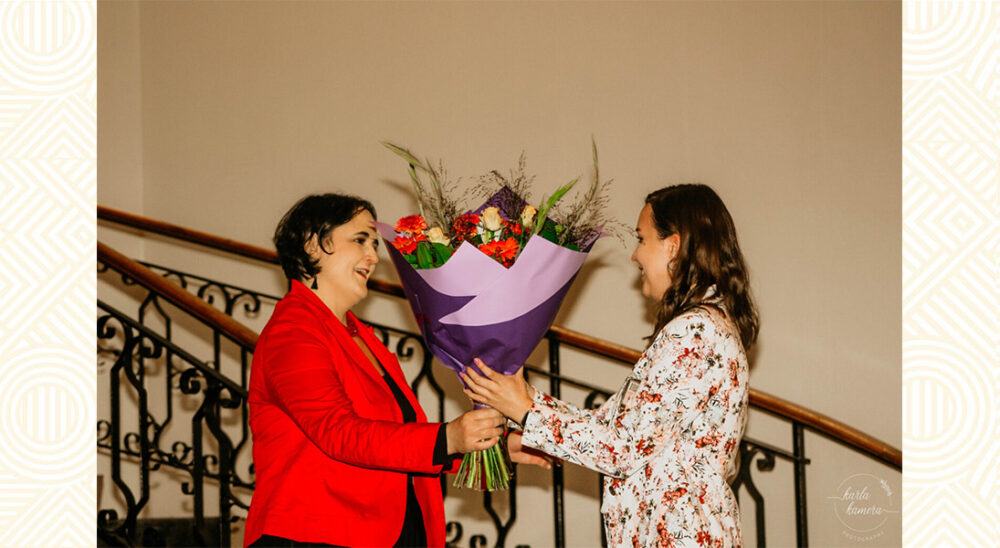 [Article by: 21759197]
After two years of online graduation ceremonies, the Department of Journalism was able to properly celebrate the successes of its 2021 graduates in person.
The graduation celebration on Wednesday 6 April in the Adam Small Theatre Complex foyer was attended by 2021 honours and Master's graduates and their loved ones.
The Department welcomed renowned journalist Phathiswa Magopeni as guest speaker. Magopeni told graduates that regardless of the path they will choose after graduation, "as media practitioners you function to inspire thinking, influence views about how the world works, and inform decisions of the citizens, business and government". She urged them to "guard your intellectual independence and your freedom of thought and expression fiercely, because that is all you have in your control as a journalist".
The best performing students from the BAHons Journalism class of 2021 were announced on the evening. The following prizes were awarded:
The Yunus Mohamed Prize for the Best Student in Photojournalism (sponsored by Media24) awarded to Sibulela Bolarinwa
The Media Innovation Prize for the Best Student in Media-Entrepreneurship awarded to Anri Matthee
The George Claassen | Christina Scott Prize for the Best Student in Science Journalism awarded to Anri Matthee
The Piet Cillié Prize for Exceptional Writing and Clarity of Expression (sponsored by Media24) awarded to Tamsin Metelerkamp
The Ton Vosloo Award for Leadership (sponsored by Media24) awarded to Alexander Brand
The Golden Pen award for the Best In-depth Project awarded to Tamsin MetelerkampThe Daily Maverick Prize for the Best Student from the BAHons Journalism class of 2021 awarded to Anri Matthee
The Daily Maverick Prize for the Best Student from the BAHons Journalism class of 2021 awarded to Anri Matthee