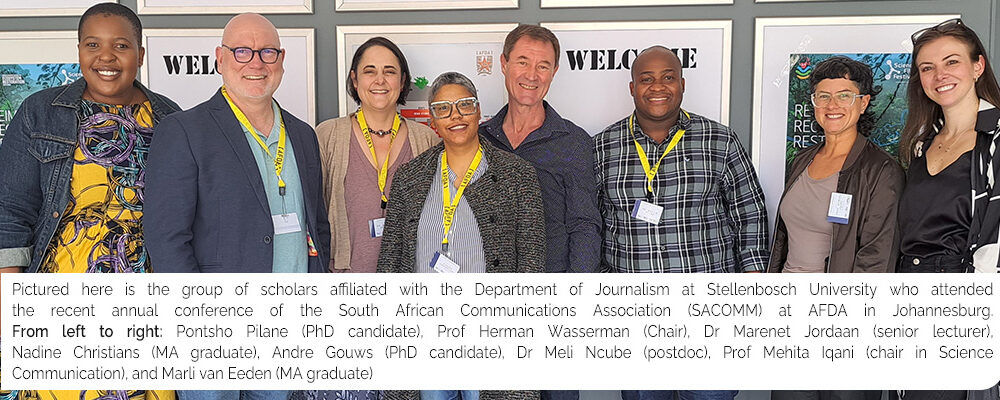 Five researchers affiliated with the Department of Journalism at Stellenbosch University were recently elected to serve on the executive committee of the South African Communications Association (SACOMM).
Members of SACOMM elected the new executive committee during its annual conference held at AFDA in Johannesburg from 27 to 29 September.
Stellenbosch University was also confirmed as the host of the 2024 edition of the SACOMM conference.
The SACOMM executive committee members affiliated with SU Journalism are:
Mehita Iqani (Chairholder to the South African Research Chair in Science Communication) who will serve as SACOMM President.
Dr Marenet Jordaan (senior lecturer in the department)who will be the convener of the Media Studies and Journalism stream
Dr Meli Ncube (postdoctoral fellow) who will be the co-convener of the Emerging Scholars Stream.
Andre Gouws (PhD candidate) who will serve as convener of the Communication Education and Curriculum Development Stream. Gouws is a lecturer at Akademia.
Dr Bimbo Fafowora (research fellow) who will be convening the Communications Studies stream. Fafowora is a PhD graduate of SU Journalism and a postdoctoral fellow at Rhodes University
This year's SACOMM conference theme was: "Media and Communication Education: Driving Change". Beyond a rich variety of papers on media, communication and journalism education and training there were also presentations centered, on amongst other things, media discourses around health, the climate and gender.
Wasserman, who was one of the keynote speakers at the conference, emphasised the need to follow a "sociotechnical" approach to communications to ensure that technological advances are taught and discussed within the social context we are part of.